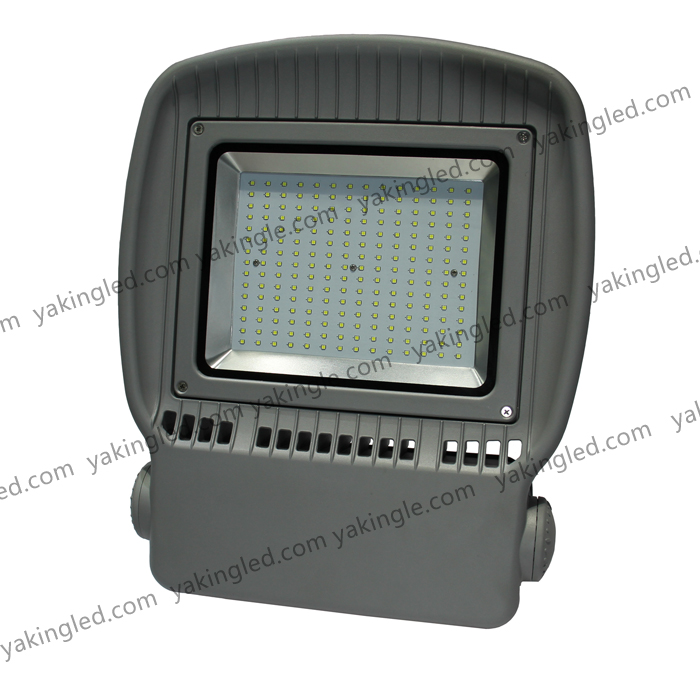 LED Flood light YJ-FSD810S-(20-300W)
Model NO.:YJ-FSD810S-(20-300W)
Price:$15.2~135
Description:

Feature
Specfication
Photo
Download
Product model: YJ-FSD810S-(20W-300W)
Power: 20W-300W
Input voltage: 100-305VAC 50/60Hz;
LED spec.: Phillips SMD3030 130Lm/W;
Color temperature: warm white 3000K; White 4000K; Day white 5000K; Cold white 6500K
Driver: Built in Meanwell Driver;
Ra:>80;
PF>0.9;
Power efficiency: >90%;
Beam angle: 120 degree;
Lifespan: 50,000 hours
IP rating: IP65 waterproof;
CE RoHS, 5 years
LED floodlights package: 1pc/carton
| | | | |
| --- | --- | --- | --- |
| Product type | Input power | Luminous flux | Radiator size |
| YJ-FSD810S-20W | 20W | 1800-2200LM | 133*165*35mm |
| YJ-FSD810S-30W | 30W | 3000-3300LM | 163*200*45mm |
| YJ-FSD810S-50W | 50W | 5500-6000LM | 207*245*50mm |
| YJ-FSD810S-100W | 100W | 11000-12000LM | 246*300*60mm |
| YJ-FSD810S-150W | 150W | 16500-18000LM | 300*370*70mm |
| YJ-FSD810S-200W | 200W | 22000-24000LM | 370*450*80mm |
| YJ-FSF876S-300W | 300W | 33000-36000LM | 445*550*105mm |
Application areas:
Widely used in shopping malls, exhibition halls, car parks, sports grounds, gymnasiums, billboards, parks, sculptures, green lighting projects, building facades and public corridors, stairway aisle indoor and outdoor lighting.
Product Features:
1. Light body: the use of high-quality aviation aluminum die-casting made of the surface after polishing, anodizing technology, super anti-corrosion cracking capacity, extraordinary texture, never change color, durable.
2. Heat: Vitex's air convection principle design Multi-piece thickening heat dissipation, better thermal conductivity, better heat dissipation, good protection of the light source life.
3. Import chip: the latest imported high lumen chip, bold double gold line design, increase the amount of current, so that more bright, more stable life longer life.
4. Tempered glass: transparent steel explosion-proof glass, high strength, non-friable, uniform light transmittance, with the lamp body fit tight, the whole light waterproof IP65.
5. Rotatable stable bracket: light design, easy to install operation, both sides of the activities of fixed screws, easy to adjust the angle and storage space when the province.
6. Three-layer waterproof measures: outlet with professional waterproof connector and silicone ring sealing process, waterproof layer of a layer of protection, no dead angle waterproof protective layer, metal frame cover three layers of protection, wind and rain are not afraid.
Use and install: